The major healthcare sector that needs proper management and security in hospitals. Every single individual has to visit the hospital in one way or other. Either for self-treatment or visiting a loved one. You might have observed hospital security guards at the gates but hospital security is far more than that and needs a proper plan for managing this gigantic system smoothly. A hospital security company provides you with a hospital security guard and hospital security officer for protection as well as encryption at the same time.
What Does Hospital Security Do? 
Hospitals are soft targets for terrorists and violent individuals & are high-density locations including crowds and emergencies due to natural & unnatural disasters. Moreover, data management of patients and equipment management and protection is important. All these vulnerability and security risks are greatly handled by a hospital security company. In big hospitals, hundreds of people come and go at all times of the day. Thus, increased threats of theft, violence, and other crimes give real risks to hospital security as well as patients are vulnerable to violent attacks even being in unwell condition. Without any hospital security, these can be easy goals for theft of personal belongings of patients, medical equipment, and staff members. Other conflicts such as undesirable visitors or visitors under the influence of drugs can cause unwanted stress to patients. The Hospital Security Company also has to manage a large amount of personal data to secure sensitive information about hospital personal data and patients' data. That should be protected with a sound hospital security plan.
The Importance of Hospital Safety and Security
Safety and security are essential concerns for hospital employees and patients. In hospital premises, workers and patients are 4 times more likely to face violence than other private industry workers & employees. The high rate of violence can shake the patient's and staff's trust in the hospital management; thus a hospital security company must maintain high standards of safety and security. Developing hospital security and generating a safer environment to increase staff retention and certify that patients get what they deserve.
Monitoring Hospital Access Areas
Hospital Security Guards help in protecting sensitive access areas such as OPD (Outpatient Department), emergency rooms, intensive care areas, and behavioral health departments. The security guard monitors the entrance and exit to avoid any abrupt mishap.
For instance, any intruder tries to move into hospital areas without consent. Hospital security guards can catch them at that state carefully. They will investigate the person and collect evidence about the incident. Afterward, the guilty will be handed over to the authorities for further action. Such action will avert the threat and panic that could disrupt the peaceful atmosphere of the hospital vicinity. Hospital security company train their guards to operate the CCTV surveillance cameras, but they will also automatically check people to add an extra layer of security. Consequently, the exit and the entryways of the hospital will stay secure night and day.
Asset Theft and Child Abduction Protection
Asset theft and child abduction are frightening issues that are happening in recent years to a larger extent. Similar to other financial and educational security sectors, the hospital sector has also been susceptible to terrible cases. Almost 50% of infant and child abductions take place in hospitals. Thus, hospital security should be vigilant about the nursing care unit and child wards.
Hospital Security Guarding Services patrolling the premises including pediatric wards and newborn nurseries reduce child abduction risk. The hospital security guard asks visitors for their identity cards and relationship before entering these areas. It helps to reduce the risk of mysterious entering. During the day and the night, keeping firm alertness on infrequent activities can reduce the crime rate. 
Maintaining a Systematic Manner of the Parking Lots
Hospitals have exceptionally large parking areas that need a worthy and skillful team of hospital security guards for 24/7 surveillance. CCTV cameras are useful, but they merely help manage traffic areas without adapting them accurately.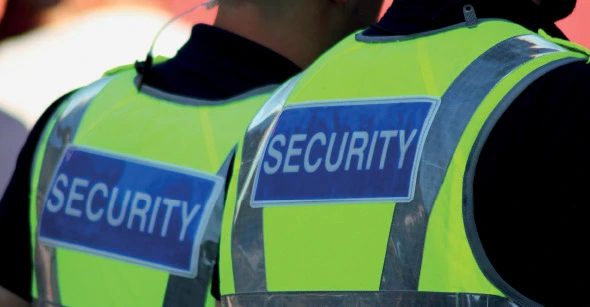 For full control of parking lots, the hospital security company can organize the vehicles by directing the speeders, traffic flow, and turn-away interlopers. It becomes informal for ambulances and emergency vehicles to follow an instant way out of parking lots. Provided that extreme accessibility to the ambulances offers stability to patients' health and safety.
Data Management & Personal Security
Hospitals have experienced the concern of security breaches and potential exposure of valuable patient records in the internet market. Since patients' health information are highly private, it is essential to keep them out of reach from hackers.
Hospital security guard handles the healthcare data being their utmost duty to keep it harmless all the time, under an observant eye. By competently using Electronic Medical Records, security guards can guarantee that the encryption of passcodes is out of danger.
Eventually, it becomes tough for cyber offenders to decode the data. Hospital security officer confirms encrypting hospital data to protect from theft and fraud. Consequently, the entire medical facility gets robust care, security, and serenity.
Controlling Aggressive Visitors & Violence
People are sincerely unable to control their sentiments, emotions, and anger in hospitals. Particularly when a close one dies in a family, individuals become emotionally extreme, which can rapidly lead to a disordered and unfriendly scenario. People even show their anger by blaming doctors for inadequate medical practices. Most of the time, short-tempered attendants attempt to create violence or harm doctors, nurses, and other visitors. Moreover, it becomes complicated for the staff to regulate the situation promptly.
Hospital security guards can considerably benefit from the amenities to lessen verbal abuse or physical violence.
If any harm is caused to the hospital's equipment or property; the hospital security officer calls the authorities instantly. This is the prime duty of guards to avert losses and damages against intruders while guaranteeing the environment remains safe.
Conclusion
Hospital Security Company Edmonton helps in maintaining the treatment of patients by giving a safer environment. Moreover, keeping a close eye on the uncommon activities in the hospital. It is complicated for medical workers to handle these for the long term. Therefore, there is a need for the total incorporation of security measures for all the security services in a hospital.