Canada is the fastest-growing economy absorbing millions of immigrants every year. There is always a sheer need for new buildings and apartments to settle these immigrants and also new ventures are started to facilitate more job placements. The construction industry is ever expanding in Canada because it needs to settle the residents, businesses, and recreation industry like hotels, restaurants, and shopping malls. Construction sites come with several risks that need to be considered in order to ensure the safety and security of any project. The major risks involve vandalism and theft agitating the construction site security. Also, with more serious threats like terrorism increase the complexity of any construction project. 
Common Risks of Poor Construction Site Security
Construction site security companies want to avoid being exploited. Criminals count on your averseness and believe that every site is a crime scene. Construction site security companies' failure to see things from a professional perspective excavates existing weaknesses and makes new ones resulting in issues like these:
Only relying on individuals witnessing a crime isn't enough. Witness evidence can conflict, or be prone to imprecise recollection. CCTV construction Site Security can provide valued evidence that may make or break the trial of a construction crime.
Your construction site may have experienced small-scale thefts and failure to act only leads to intensification.
CCTV cameras that have not been evaluated for optimal positioning. A qualified construction site Security Guard Services can ensure they cover the site efficiently by criminals.
Construction sites can be accountable for giving criminals a motive to snip. This includes displaying negligent security measures and underestimating or mistreating employees. Criminals can easily vindicate their acts when individuals hold a grudge against managers, supervisors, or other authority figures. They can be misused for vulnerabilities.
Construction companies relying on insurance will have a hard time making a claim. The right construction site security companies can help to prepare documents and win any valuable claim.
Failure to perform sufficient background checks or consistent drug tests can bring formerly convicted criminals and addiction-driven burgles onto your site.
Best Practices to Address Construction security risks
Assessing the risks and hazards to your construction site security requires some practical steps to be followed to reduce risk at construction sites.
1. Implement inclusive access control
An unwanted presence can cause major construction site vulnerabilities. To reduce or eliminate this issue use of locked entry/exit points at every construction site should always be your first priority. This allows employers and construction site security companies alike to monitor who enters and leaves specific areas at all times. Construction Site Security guard helps to maintain a safe environment for both employees and outside parties. Moreover, utilizing biometric technologies along with manned personnel can enhance the level of effectiveness connected with access control procedures quite considerably.
2. Hire reputable subcontractors & construction site security companies
One major alarm amongst employers on construction sites relays not just on employee absence but their very integrity itself. There should be a strong background check before hiring the individuals to avoid any already known criminals on board. Employees with ambiguities can cause great harm as they are existing inside an organizational hierarchy. Moreover, they may damage invaluable assets intentionally. Pursuing police checks prior to offering employment contracts forbids such events. The contract clauses provide explicit terms around breach sanctions and provide additional levels of protection. Construction site security companies should be the frontline to avoid wrongs during labor contracting processes.
3. Install 24/7 CCTV surveillance systems
Advanced surveillance protocols need to be made essentially ubiquitous across commercial construction projects. Recently, the involvement of technological innovations related to high-quality camera lenses enabled HD recording periods during the entire project duration. Installing high-tech video surveillance cameras at entry/exit access points controls the regulations required on the construction site. CCTV construction site security provides visibility into areas of safety concern such as high-traffic zones. Moreover, CCTV surveillance provides real-time observation capabilities and these technologies also act as deterrents against criminal activities like theft or vandalism. Additionally, this improved system allows employers to monitor employees during shifts which could spot unsafe behaviors before major cases occur. Last but not least CCTV surveillance footage clips captured can be used in proving useful investigative purposes. It is no doubt a major deterrent to illegal criminal activity eventually ensuring safety.
4. Ensure regular evaluation sessions
It's important to carry out routine evaluations which serve as an efficiency booster. Labors entering the construction site must be fully alert of all the possible risks. Also, must be evaluated for drug and illegal liquid use. Construction site security guards must be capable of identifying the construction risks involved and also know how to prevent them. In Canada, the Occupational Safety and Health Administration (OSHA) has identified scaffolding as the first hazard that occurs when supports are not erected or used properly. It is the responsibility of the construction site security companies site to make sure every worker is fully aware of the risks they are facing. Officers must ensure that every employee is fully prepared for the work without putting themselves in danger. 
5. Perimeter Protection
Perimeter protection not only delivers a sense of security to people working at a construction site but also is a strong deterrent for criminals to stay away from the construction site. The biggest advantage of perimeter protection is that the interloper has the fear of the unknown. Furthermore, Fences, locks, observation posts, and lights are also powerful criminal deterrents. Any construction site well-appointed with a perimeter fence, coupled with observation poles, searchlights, and locks can guarantee foolproof security of a construction site.
6. Log Maintenance
Most operative way to ensure construction site security in Edmonton is to accept that anyone can be a criminal. Employees and official visitors can also be involved in thefts so, every item present at the construction site must have a serial number or any recognized number that can be registered. A proper log book must be kept up by the manager on site, and all the gear used by the employees must be drawn and deposited back against the name of the authorized individual.
7. Site Safety
One of the greatest dangers to the safety of workers on construction sites is other workers that might be doing jobs that they are not experienced enough to do. Site safety should be ensured so that only those workers are allowable to work on construction sites who have valid and updated working permits/ certificates.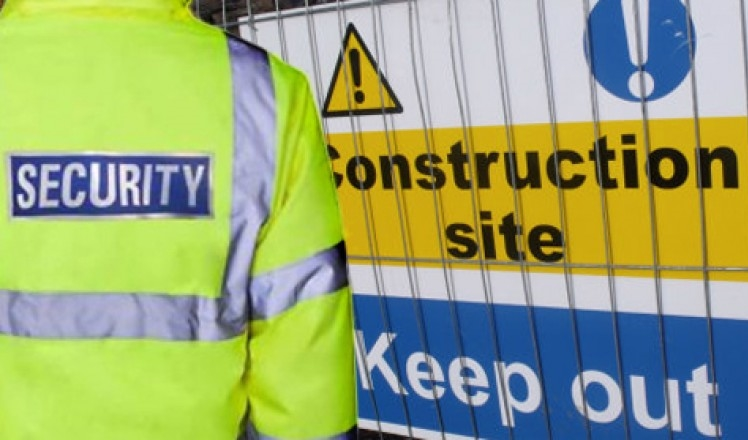 8. Zero Tolerance Policies On Site
Moreover, policies made by the company to avoid any untoward incidents like falls, electrocutions, fires, etc can also be posted around the construction sites and distributed to any individual who enters the project. It should be made clear to the employees that these policies are set to be followed and any rule broken, can render them to disciplinary action/ consequences/ fines.
9. Internal training & Upgradation
The construction site security companies in Edmonton should train their guards and technical workforce every now and then. Internal training is an important aspect to consider for choosing construction site security guard security services. The ongoing training and upgradation make a progressive development in the overall attire of your construction project. Moreover, helps you to maintain the trust of customers seeking security guarding services. The Security Company Edmonton must have security workers with knowledge and training on present security problems, operations, and much more.
Guard24 is a Canadian-based company offering access control, mobile patrolling, alarm systems, and much more. We have more than hundreds of happy customers that are maintaining a safer security environment with our unarmed and armed guards. Moreover, we commit to providing the best construction site security services for making a long-term and healthy relationships with our customers. We offer you remarkable security guarding services in a professional way. We commit your construction site safety and security as the utmost priority.